Kennedy Brothers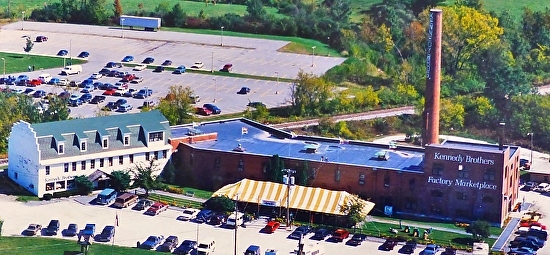 Commercial Leasing Opportunities:

Office + Retail Space to rent
KB Cafe with Wifi and Espresso (opening 2015)

KB Coworking (opening 2015)

We are now renovating this uniquely beautiful historic building with a great location on Main Street in Vergennes, Vermont. Located on 22A near the junction with Route 7.
Advantages of locating your business here: three phase power, multiple providers of fiber optic internet service, city water & sewer, fully fire sprinkled, security system, ample on-site off-street parking (soon to be paved), and an inspired atmosphere.
Imagine going to work where you could meet in person or online in the coffee shop, work out in your choice of gyms down the hall, get enthused about your work at the Coworking Center, smell chocolate being made, and get a great latte in our wifi cafe (opening in 2015) - all without leaving the building! Contact us (Bob Feuerstein and Lillian Kennedy) at 720-891-2361 or Robert@KennedyBrothers.com for more information.

Be part of this creative space where your business can excel. Under new ownership but still in the Kennedy Family, Kennedy Brothers is currently reinventing itself and making building renovations. Our building has a rich history as a destination building for tourists and locals alike. Brick by Brick: Building the KB Community is our blog. Read it for news about our changes, our tenants, and our community here in Addison County in the beautiful Champlain Valley.
Current tenants include: Vermont Sun Fitness, Vintage Fitness, Chocolate Hollow, Raintree, and Green Mountain Wireless.
Lease NOW in the brick building - we'll build so that you get precisely what you want.